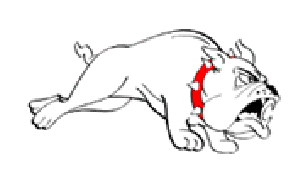 You Can Teach a Dog New Tricks
I am midway through my 5th week of my new crazy fitness plan. Crazy for me, that is. I saw my parents the other night at a birthday gathering for my sister, and they had a good laugh over me running outside before dawn on a regular basis. They shared stories - especially with my amused husband - about how I couldn't be woken up if my life depended on it, when I was younger and still living at home. Sometimes I can't believe it, but I have grown to really cherish the "extra" time during the day this new schedule gives me. I used to be a total night owl, but I would my evenings reading magazines or other doing unconstructive things like watching TV and surfing the web. And while my Tivo was cleared on a regular basis, I was tired in the morning and my ass had couch prints.
Staying Focused
Nowadays, I am like a granny, trying to be in bed between 9 and 9:30 on the 3-4x per week I have to get up and run the next day. When I get back, my family is still sleeping. I can drink coffee in peace, eat a little breakfast, wash/fold some laundry, check my email...I have quiet time just for me! At night when I get home from work I am still in kind of a mad rush to get the kids fed, bathed and put to bed. And after that, rather than stay up too late trying to cram in some laundry or catch up on my shows, I just go to bed. I have a really great book I have been dying to read, but I know it will keep me up too late so I have put off starting it. I really want to stay focused on this plan for as long as I can. And I have realized, I don't even miss half of the shows used to "need" to watch. I have stopped recording most of them and also not replaced series that are off season or cancelled with new shows. I still watch TV, but I keep it to just a few nights a week, and only programs that I really LOVE.
Pushing the Limits
Additionally, I only give myself 1 day off exercise during the week, right in the middle. The days I am not running, I try to mix things up a bit by adding in yoga, pilates or doing an interval training (walking) on my treadmill. It's good practice to keep your muscles guessing by cross-training. This will prevent your body from getting too used to one form of exercise and your muscles will stay challenged
by the variety. Already, my morning runs are getting easier, and my time is decreasing for the same route. Soon I'll be adding more distance!
Seeing Is Believing
I love looking in the mirror and seeing a thinner face staring back at me. I look so much better when my thighs are tight and muscular, and my butt is perky. Yoga is really toning my arms. I am working on my middle, which could definitely use some firming up and that is always the last to go! I have to remember to keep drinking water and flushing out the toxins and things that make me puffy. As my running partner and I always say to each other - "Kick ass!"
Hope you are having a kick ass week!