I have been reading about the possibility of a
chocolate milk ban
in schools for several months now. This ban will include other flavored milks as well. It appears as though the potential for it to happen is really gearing up. It's particularly newsworthy as the Los Angeles County school district, which is the nation's second largest, is next to consider the ban.
Doesn't that glass of chocolate milk look so good?
Sorry. It does look really good. But I'm not a school kid. I can't remember the last time I had a glass of chocolate milk. I'm an adult, and while I really don't have the best will power, I choose to refrain from chocolate milk because of fat/calories/health reasons. I'm not a growing child, and though osteoporosis is a concern for women, I don't really need to drink milk. Even on the rare occasions I have chocolate milk, I NEVER buy the pre-flavored kind, I like to mix it myself at home because I really think the kind in the carton is WAY too sweet.
Sometimes, I stop and think about how humans are the only species that actually drink milk that comes from other animals. In nature, animals drinking another animal's milk doesn't happen. Kinda makes me go...yuck. However, I was raised drinking milk. I rarely ever had chocolate milk, and grew to love and appreciate the taste of an ice-cold glass of unflavored milk. My kids are both milk drinkers. If they grow big and strong because they like it, I'm in full support of them drinking milk, even though it comes from a cow.
Buddha won't even drink chocolate milk. I am completely happy about this. Why add the sugar and fat if he's perfectly happy with drinking it plain? Monkey loves chocolate milk, and I only add a small amount of chocolate flavoring. The funny thing is, whenever he has some, something clicks in his little 4 year-old mind and suddenly he remembers chocolate milk
exists
. He will ask me for it for the next couple days. And I keep saying no. The answer is, in all honesty, I don't want him to have chocolate milk. He is perfectly fine with plain milk (1%) and apple and orange juice (which I still water down) as his daily beverages. He knows chocolate milk is a special treat, which he only gets once in a great while. As I sit here, I cannot remember the last time he had chocolate milk. It's been at least 4 months or so.
So, I know I've got it pretty good. I have 2 kids who love plain milk. They aren't exposed to school lunches yet, although Monkey will be going to kindergarten in the fall. Suddenly I see the concern. Will my son have the choice between plain and chocolate milk? If so, let's be honest, my kid is going to go with the flavored milk. That is
no bueno.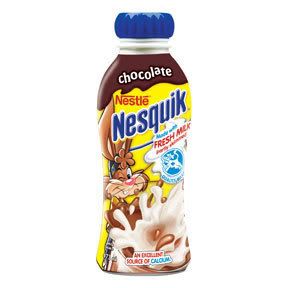 Apparently some flavored milks have as much sugar as a soda, or in some cases high fructose corn syrup. Ugh, that grosses me out. And apparently, according to this article in the L.A. Times,
Chocolate milk could be banned in some schools -- here's what might be lost
, chocolate milk contains some sort of thickening agent which gives it that nice rich consistency, and prevents the chocolate particles from separating from the milk. And some other stuff that I have no idea what it is. The concern of those opposing the ban is that some children will only drink milk if it is flavored and that ingesting all the added sugar and God-only-knows-what else is better than their child drinking no milk at all.
Sigh.
I have obviously determined having chocolate milk available to my son at his own free will on a daily basis is not an ideal situation. I don't believe chocolate milk is the root of all evil either. I think parents need to start teaching their kids healthy eating habits. I also think we do need to
reform the school lunch program
. I think that a lot of parents look at school lunch as easy, they don't have to worry. But they don't have any idea how bad the food is that most schools are feeding their children. Anyone interested in reading more on this subject should check out
Fed Up With Lunch: The School Lunch Project
which is a great blog written by a teacher who ate school lunch every day for a year and blogged about it undercover. We also need to cut down the time spent on video games and get our kids active again, play with them outside and get fresh air...get them
moving.
We are the best examples we can give them.
That's all broader spectrum stuff. To address the flavored milk ban specificially, I propose this. Someone needs to come up with a healthier version - maybe only offer low or non-fat, with reduced sugar, and nix the high fructose corn syrup. I am for the ban against flavored milk as it exists today as one of many changes that needs to be made, but not completely against flavored milk if there is a healthier alternative to the type of flavored milk currently offered. I do recognize that there are some kids who will only drink milk if it is flavored, and I do think they deserve to have access to milk. If there is no healthier alternative, then the school districts should ban the flavored milk but allow parents to send it to school with their child if they choose to. I don't think this ban should be about stripping people of their rights, just about promoting healthier options.
How do you feel about the chocolate milk ban?
Do you think it's extreme or as one of many things wrong with what is provided to our kids in schools?