Thanks to Trop50 for sponsoring my writing about fabulous bloggers. This year Trop50 is granting 50 Fabulous Wishes.
Click here
to enter for a chance to win $1,000 to celebrate a friend with a refreshing attitude about looking and feeling fabulous!
That would be Fab Five Freddy on the right
Who do you think of when you hear the term "Fab Five?" With all the talk about the world ending lately - ahem, I'm still here, thank you very much - everyone has been posting links to Blondie song, "
Rapture
". It's a great song touted as the first #1 song with a rap, during which she mentions
Fab Five Freddy
. Apparently he was a pretty cool dude in his day. He even hosted the first rap show on MTV, "Yo! MTV Raps." Right now he instantly springs to mind when I think "Fab Five." Maybe others might even think of those hilarious guys from Queer Eye for the Straight Guy - the awesome gay guys who would do an ambush make over on a particular male who was desperately in need of a fashion/general overhaul. That was one of the first shows that lured me to the Bravo Network.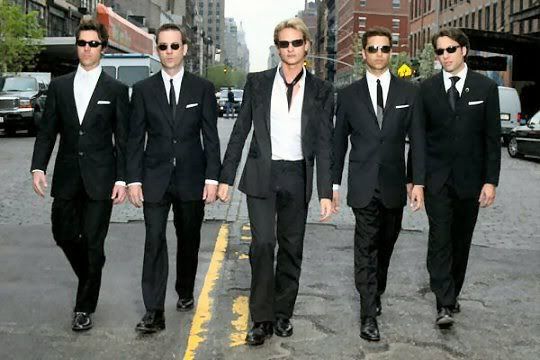 I miss this show!
Then of course there were the starters of the University of Michigan basketball team in 1992...
scandalous
!
In the blogging world, it's easy for me to pick my "Fab Five". However, it was super hard to pick ONLY five. Sometimes it's not only about the blog but the blogger behind the blog. Want to know what blogs I stalk and why? Check these out!
Karen from
Time Crafted
has become one of my favorite bloggers. We tweet, we are friends on Facebook, follow each other on
Pinterest
and we comment on each other's blogs regularly. She is just a down to earth, cool chick. When it comes to her blog, she is incredibly versatile in her posts. Sometimes, she will blog on topics that are writing prompts from various writing workshops (
Mama Kat's
,
The Red Dress Club
) which I don't participate in so it's interesting for me to follow what they do. She also posts about the occasional crafting project, gardening, and gluten/casein-free recipes. Her blog design is simple, clean and easy to read. Just a gem of a blog here!
Jill from
Glamamom
has quite a cool life that I love to check out on a regular basis! Based in NYC, she blogs about the many events she attends related to motherhood, fashion, charity and good causes in general. She has her own social media/special events production company. I love to look for pictures of the events she attends with celebrities, like her recent time spent with Kelly Ripa, who I adore! She has also met Bethenny Frankel who is one of those Bravo reality stars I just can't get enough of! I also respect Jill for her insightful comments on my posts, which are honest and truthful. Believe it or not, I love it when someone doesn't always agree with me 100%! It gets me thinking!
I also enjoy reading
Our One Sweet World
. I love the simple, artistic look of the blog and of course, the name which came from a
Dave Matthews Band
song. I love DMB! Her posts are a mix of personal, family, and poetry. Always pretty too - she can take some nice photos, which is a challenge of mine. This blog is always just a comfortable, pleasant one to stop by and visit, sort of like a cup of tea and a warm fire on a rainy day.
Stephanie in Suburbia
is also one of my go-to blogs. Stephanie is real and she lays it all out there. Maybe its that I feel that we are alike in many ways. When I read her blog I feel like I am truly inside her head, and can understand and relate to her point of view. Stephanie is a city girl who settled down in the 'burbs.... a married, working mother with a daughter who's just embarked on toddlerhood. She writes about her life - random posts on just about anything: her family, her relationship, her home, fun outings, etc. Always a pleasure to "get real" in suburbia with Stephanie.
Do you know about Mrs. Q and her blog
Fed Up With Lunch
? She is a teacher who went underground and ate the cafeteria lunch her school served for a whole year, and blogged about it - complete with photos! Her blog has been a first-hand expose of how yucky school lunch can be. She has now branched out to other topics related to her own diet, her son's day care food, and all things related to school lunch reform. Since my oldest is just about to finish pre-K its very interesting to think about these issues that I have not yet had to deal with. I have the utmost respect for this woman! It takes a lot of dedication to write this eye-opening blog of hers!
So there you have it. My Fab Five. Who are your favorite bloggers and why? With that, I leave you with another Fab Five:
Simpler times for the Jackson Five
Don't forget to
enter the 50 Fabulous Wishes contest
for a chance to win $1,000 to celebrate a friend with a refreshing attitude about looking and feeling fabulous. I was selected for this
Tropicana Trop50
sponsorship by the
Clever Girls Collective
, which endorses
Blog With Integrity
, as I do. I received compensation to use and facilitate my post.