My new job has been going well. I work with some incredibly nice and cool people, and they took me out to sushi for lunch on my first day. SCORE! So we got off to a good start on the food front, as they apparently love sushi as much as I do and that is typically the office lunch of choice. But, I just have to laugh. You have surely read about my previous struggles with
food at the office
and
also here
. So it turns out at my new job, my Director is the only Director in the whole company who shares an office with someone. That someone would be me. She is totally cool and I couldn't have asked to work for and with a better person. However, It turns out that she is also the only person who generously supplies snacks and treats for the office, all out of the goodness of her heart.
Sushi on my first day. Gotta love it.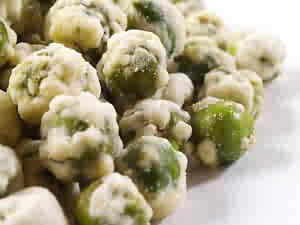 Spicy goodness of wasabi peas. May be why my tummy hurts!
We have a lunch room with a vending machine, but my boss buys goodies for the purpose of sharing with everyone. We have a small round table in our office and everyone stops by to grab a little something all day long. I love that, because without that interaction I would have a lot less exposure and it would take a lot longer for me to meet everyone. I must say, she makes some pretty good choices so fortunately for me the handfuls of goodies I've been chowing down on this week are more harmless than they could be. And really, I do know I can't blame anyone else for my lack of willpower. We've had wasabi peas, sesame sticks, and plantain chips which have been really yummy. I have had my own snacks to try to keep my distance (peanut butter celery and carrot sticks) but there have been SWEETS 2 days in a row. That is where you get me. It doesn't matter if I stuff myself to the gills with celery and carrots, if there are cookies or cupcakes to be had - we have had both - you know I will find room. I just find humor in the fact that I am faced with unrelenting food temptation. After all these years you'd think I'd find it terribly boring and just deal with it. But no.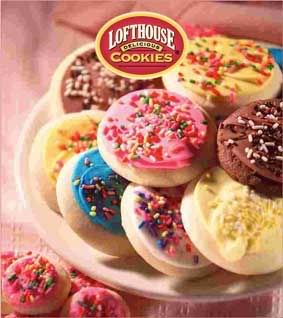 Crack cookies. I had 2.
The job itself is very interesting, challenging and very busy. A lot of people think social media management is just playing on Twitter and Facebook all day. It is so much more than that. I
really
like this company and want to do well, so I'll be giving it my all!! They are incredibly flexible with my schedule, which is awesome for the boys. I can take Buddha to his speech therapy evaluation and Monkey to baseball practice and not feel guilty or that I am asking to much. As long as my job gets done that's all that matters. I definitely will not be taking that for granted!