The only thing that is constant is change. I don't know who the first person was who said that but man, they weren't kidding. Monkey goes back to school on Thursday. He's going to be in shock, starting at 7:45 and all. The poor kid is going to have to get up at 6:15 am, a full hour earlier than he had to get up for preschool. And for the first time, he'll be going to school
every day.
I have been trying to put him to bed earlier the last several days, but that's not going so hot. I guess he will eventually self-adjust.
And what about poor Mama? I had been working out and running in the mornings before my kids get up. I have been dedicated for the last several months, but I just don't see myself getting up at 5 am. I will have to work out, get ready for work, get the kids ready for school, drop them off and go straight to work. I shouldn't knock it until I've tried it but I have never been much of morning person and that just seems like it would be pushing it.
Just a little
.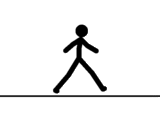 I am also contemplating going to work in walking clothes, doing a power walk for 30 minutes around my office complex and changing before I head into work. There is also an onsite gym but I don't know if I will have time to get a decent work out, shower and walk into the office before 9am. My 45 minute commute unfortunately eats into any good chunk of time I would have to be productive. bleh. It will be a work in progress, stay tuned.