Eat. Sleep. Move. Enjoy. This could be the name of my blog. My life revolves around trying to find balance. How do I do it during the holidays? It does get a little tougher. There are more demands on my time - socially, and just
stuff
to do. Such as...decorating, shopping, wrapping and PREPARING - probably my least favorite thing to do. I really am a fly by the seat of my pants kind of girl! I have recently been chosen as a
Fitfluential
Ambassador, a group of people who love fitness and share their healthy and positive message with others. As part of my affiliation with this group, I will share with you how I manage to keep harmony in my life this time of year.
Dessert table. Cannot resist.
Can't resist this either!
I know when the holidays hit, there are more fun things around to eat. Pretty things. Hearthy things. Tasty morsels that don't come around every day. I want to indulge...and I do. Deprivation always backfires. I just try to indulge in moderation. Yes, I will have dessert at the party. No, I will not try to make half my plate vegetables. I won't really try to curb my portions, but I won't over load my plate and I will listen to my body when it tells me I'm full. When I'm not at the party, when I am having a typical day of going to the office and heading home, I will try to balance it out. I will make more "green smoothies" in the mornings before work or even have one for dinner. I will try not to partake in sweets in my spare time when I'm just hanging out at home. Well, that is unless Auntie Cindy's famous cookie platter has made it to our house, which she makes and delivers every year without fail.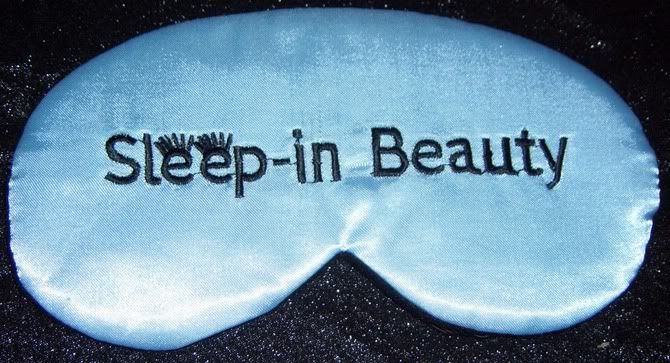 I need one of these. And ear plugs.
I'm not going to lie, sleeping is one of my favorite things to do. As the mother of 2 littles, the amount of times I get to "sleep in" per week is -0-. My youngest, who is 3 never seems to sleep past 7. Well, on a positive note, if he's wired that way he won't have issues with getting up early like I have my entire life! With the exception of nights we have plans, I hit the sheets pretty early. I strive for 8 hours of sleep, but will settle for 7 if I have to. I'm no good to anyone when I'm tired. I'm cranky, I eat like crap, and I'm generally unproductive. Which somehow always ends up happening to me if I stay up/out too late, have too many cocktails, and feel like hell the next day. Just forget it, the day is shot. I have somehow failed to learn that lesson over my last 40 or so years, and I hope to be better about that this year.
Run.
My morning workout buddy.
During the holidays, even though I'm busier, I try to make a conscious effort
not to blow off work outs.
I also try to mix it up a bit, to "surprise" my muscles and keep them guessing. So far this month I've been diligent about setting my alarm for 5 a.m. to work out. Ok, so I snooze until 5:30 a.m., but at least I get up to do it. This is the time I am least likely to flake because of other commitments, getting home late or my children foiling my plans. I started doing more cross training this month, trying to focus more on strength by doing Jillian Michaels Ripped in 30 before work. This is also due to the fact that I am going to be in my sister's wedding in August and want to balance out any setbacks the holiday eating and drinking might throw my way. I have also added a dimension to my running by doing some hill work on my weekend run. Sweet.
Our tree.
This is a crazy time of year. Deadlines, rushing, not enough hours in the day. But we have to remember to stop and enjoy ourselves. This year we put our Christmas tree right in our family room where we can appreciate it every night, rather than the living room in front of the window for the enjoyment of everyone else. I have blown off cleaning a few times so that I could spend time with my kids, and actually
do something
with them rather than just be in the same room with them while we all do our own thing. I light candles in the house even when there are no guests, and play Christmas music which surprisingly mellows the kids out. They don't even ask for the TV. Chip and I find time to socialize with friends, and enjoy each other's company for what is typically the final time for the year. I try not to put too much pressure on myself when hosting Christmas Eve, because I know my family is all there to help and what makes it a great night is that we are together. I have even stopped worrying about my upstairs being in perfect order after years going by where none of my guests ever even went up there! The highlight for me is watching my children's faces light up when opening their gifts, and nothing else really seems to matter except for the fact we have each other. --
Today is a gift, that is why we call it the present.