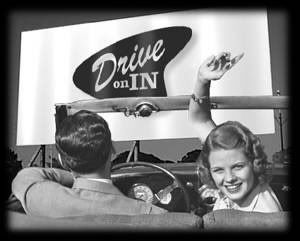 The Drive-in...not like it was in high school!
My Dad happened to mention to me a few days ago that our local drive-in theater was going to be free on Thursday night. My biggest concern was that it was a school night and also Chip would be working so I'd be attempting to pull off yet another solo flight with my two wild banshees. Plus, since it was a work day for me I wasn't sure what my mood/commute traffic was going to be like or if the kids might be moody, tired or whatever. Plus plus, I live in a suburb and had to drive to the "city" and was still chapped from the $4.07/gallon gas fill-up I had made the day before. So I honestly didn't make any big plans to go, but when I got home fairly quickly with no traffic to happy children who seems fairly energetic, I thought...."Why not?"
I looked up the show times online, and then called to verify it was actually free. Turns out it was customer appreciation night! There would be live music, face painting, and games. Ok, I was not planning on getting out of the car as we were all going in our pajamas but I still thought it was pretty cool that they offered all that if we had wanted to partake. Even better, the feature was "
Tangled
." My boys hadn't seen it yet, and it actually is a movie I wanted to see as well.
I popped popcorn at home, and finally tried something I'd been wanting to do for a while. We were in a rush so I just threw in 1/2 cup of pop corn kernels into a paper bag, folded it over and taped it shut. I put the folded side up, and set the timer for 2-1/2 minutes. It turned out perfectly, with not very many un-popped kernels. I got a Tupperware bowl, poured in the popcorn, drizzled with olive oil, sprinkled with sea salt and parmesan cheese then shook it all up. YUM, right? I sort of panicked because in my rush I didn't stop to think if my boys would like it, but oh well. I grabbed a sippy of milk, a Honest Kids juice pouch, a couple snack packs of baked cheddar Goldfish, some Teddy Grahams and blankets and we were out the door.
We made it there pretty quickly, and it turned out to really be free. Call me a skeptic but I half anticipated we would show up and there would be a "catch". We picked out a great spot with a nice upward slant so even my 2yo would be able to see the screen from the front seat. See, even though I drive a small SUV it still wasn't really warm enough in my opinion to back in and leave the back door up so we could watch from our cargo space. Plus, Daddy wasn't with us and the whole safety factor, etc. It's great now that you don't have to worry about parking near a pole and the speakers reaching your car...we turned my car stereo to the right station and had great multi-speaker sound.
They LOVED the popcorn (thank goodness) although they turned the interior windows of my car into an olive oil finger-printed mess. They really enjoyed the movie and I thought it was really cute. There were a couple parts that scared my 4yo but that is typical for him. When they got a little antsy I opened up the sunroof and let my 4yo stand up and watch the movie "outside". He got a big kick out of that and checking out the moon, stars and planes flying overhead.
They were definitely out past their bed time, and Monkey had preschool this morning. I had to get up at dawn to run and honestly could have used another hour of sleep but for my kids to have an impromptu, fun night at the movies with their Mom, it was totally worth it. Plus, you really couldn't beat the price. :)
If you haven't seen Tangled, check out the trailer. TGIF y'all!